"Frustrated with SQL Server Failover Clustering?"
Your Frustrations with SQL Server Failover Clustering
Are Finally Over
Only $595
Hi there. I'm Edwin M Sarmiento, a SQL Server Microsoft Certified Master and a Microsoft MVP for more than a decade now.
I think it's fair to say, I know this stuff like the back of my hand. You see, I've been doing high availability and disaster recovery projects since 2005, starting out as a data center engineer for a global IT company.
Now, as a recognized expert on the topic, I also speak at conferences worldwide, including the likes of PASS Community Summit, DevTeach, Live360, SQLBits, Microsoft TechDays and SQLSaturdays.
But if I'm being honest, it hasn't always been easy...
"I Still Remember the Late Nights and Endless Hours of Frustration"
When I was starting out in my career as a computer technician, I imagined what it would be like to be a really good SQL Server expert.
I knew that dreaming about it wasn't enough. I knew I needed to learn different technologies, especially those related to Windows Server Failover Clustering (WSFC.)
For almost a decade, I repeatedly struggled to learn the technology. I started to become more and more frustrated because my job... my career... was so dependent on it.
I mean, I was a database professional who...
Didn't know what to do when something went wrong with the company's highly available database systems
Kept making mistakes and felt like I needed a PhD to deal with a WSFC
Felt constantly under pressure to keep very important databases up and running at all times
Found the Microsoft documentation incredibly confusing and difficult to follow (and yes, it still is... even now)
Couldn't find any simple and easy to follow resources on working with WSFC
And it gets even worse...
With the constant demand for high availability solutions and the introduction of Availability Groups in SQL Server 2012, our jobs as SQL Server DBAs are increasingly more dependent on WSFC, whether we like it or not.
What's even more frustrating is that there wasn't (and still isn't) a publicly available Microsoft official course that specifically focuses on deploying SQL Server on a WSFC.
"So I Decided To Dedicate Myself To Learning How WSFC Really Works
I was determined to overcome it. I knew in my heart that I had to master the technology if I was ever going to survive as an SQL Server DBA.
One day, I decided to look at the things that I already know. I used what I already know to better understand how WSFCs work.
Once I found a correlation between what I knew, and what I needed to learn - and gradually took action - I started to see great results:
I became more confident in dealing with WSFC-related tasks
I was promoted to a more senior role
I started designing highly available SQL Server systems
I became a sought-after SQL Server consultant - and eventually started my own consulting practice
I somehow managed to get over that "impossible" hump and really master the role of a SQL Server DBA - and more specifically - Windows Server Failover Clustering. I finally considered myself a true expert.
And what did I do next?
"I Poured Almost a Decade Of Experience Into An Industry-Leading Training Course"
That's right...
I've gone and packed everything I know into a revolutionary training course, designed to give you everything you need to become a wizard-like SQL Server DBA.
After going through this course...
You will forever be equipped with the knowledge to handle any situation that might occur with your company's database systems
You will find it easier than ever dealing with a WSFC
You will never feel under pressure about keeping mission-critical databases up and running
You will never have to look at that mind-numbing Microsoft documentation ever again
You will have the absolute best, and easy to follow resource for SQL Server DBA's ever made
"A Must For Any SQL Server Professional Achieving To Be A Top Flight DBA..."
Failover Clustering for the Smart SQL Server DBA by Edwin Sarmiento takes you from beginning to end on Clustering for SQL Server. He not only takes you on the journey but provides some awesome insights into clustering giving you the when, why and how to use this technology to meet your High Availability and /or Disaster Recovery requirements. Novice to Senior DBA will learn from this great course. – Warwick Rudd,
SQL Server Microsoft Certified Master,
Microsoft MVP, SQL Server consultant
Learning SQL Server HADR and Windows Server Cluster is critical for DBAs and finding great resource such as book, or training class and a trainer who is experienced and expert in that filed is very important, otherwise you are wasting your effort. Edwin M Sarmiento is SQL Server Master and one of experts in HADR field. He is going to launch new high quality online HADR training classes. – Hamid Fard,
SQL Server Microsoft Certified Master,
Microsoft MVP, SQL Server consultant
The Best Online Course to Learn Windows Server Failover Cluster...the course and compared to all other videos/courses I came across in the past, Edwin's is the best by far. – Mo Darab, SQL Server consultant
"Windows Server Failover Clustering for the Smart SQL Server DBA" truly expanded my mind about Windows Failover Clustering and FCIs, and Edwin always responded to the dozens of questions I had. His course is a fantastic resource, and I highly recommend it to anyone seeking to up their game in the vast and complex world of clustering. – Ned Otter, SQL Server consultant
Edwin has been regarded as a HADR expert by his peers for as long I as can remember and in these courses he identifies the importance of SQL Server High Availability and seeks to train you from the ground up ensuring that strong focus is given to the often brushed over topic of Failover Clustering -the foundations of both SQL Server Failover Clustering and Availability Groups. Some of the things I particularly like about this unique video course is the enthusiasm that Edwin clearly shows for the subject matter, and also the Real-World experience that he is able to reference. As a fellow Failover-Clustering fan, I can strongly recommend that if you are looking for expert HADR training material covering Windows Server Failover Clustering and SQL Server Failover Clusters then you should give this material a whirl, sit back and enjoy! – Mark Broadbent,
SQL Server Microsoft Certified Master
Microsoft MVP, SQL Server consultant
I previously took Edwin's course on SQL Server High Availability and Disaster Recovery. His teaching style is excellent and easy to follow. The course was a must for any SQL Server professional achieving to be a top flight DBA. With this new course focused more on Windows Server Failover Clustering I believe that it will greatly bridge the gap between the Sys Admin and DBA role. The deep dive into the details of WSFC is a great compliment to any DBA's skills with High Availability and also serves as a great resource to anyone wanting to expert the material for another career path. As our businesses get more and more focused on high availability and reliability, I would highly recommend anyone seeking to enhance his/her career in this field to immerse themselves in the knowledge of WSFC. Additionally, the course provides several hands on activities to solidify the knowledge the practical implementation. – Ayman, Microsoft
I had the privilege of getting a chance to be an early participant in a phenomenal new course on Windows Failover Clustering by Microsoft MVP Edwin Sarmiento. Clustering is a great example of where this kind of training can be a godsend; it's complex, with many moving parts (Active Directory, DNS, and network to name just a few), and while it's gotten much better in recent versions of Windows, it's still a bear if you don't do everything right the first time. And let me tell you, Edwin's course leaves nothing untouched. He starts off with the basics of what Clustering is (and conversely, what it isn't), then progressively goes deeper into specific components. The module on Quorum is pure gold; I've been bitten by mistakes that Edwin calls out numerous times, such as neglecting to configure a witness. He uses clear, simple examples, along with plain real-world analogies to explain concepts like resource groups and status. I consider myself pretty well versed in clustering internals, but I have already learned more than enough to justify my investment in the course. – Josh Feierman,
SQL Server consultant
One of the best SQL courses focused on a critical aspect of database administration. Very well presented which includes anticipated errors and 'scratch your head' SQL behaviors that experienced DBAs will figure out eventually at the cost of wasted time. Having said that, this is a worthy investment indeed. – Mel Toting, SQL Server DBA, American Golf Corporation
"NEW Training Course: Windows Server Failover Clustering for the Smart SQL Server DBA"
An easy-to-follow, simplified training program that demonstrates "step-by-step, how-to-do" using video screencasts, explaining complicated concepts using analogies that we can all relate to.

When you sign up for the Windows Server Failover Clustering (WSFC) for the Smart SQL Server DBA course, you get access to ... over a hundred HD videos, detailed worksheets and step-by-step guidebooks covering:
Step-by-step instructions on how to design, deploy and manage a highly available SQL Server failover clustered instances (FCI) - for both high availability (HA) and disaster recovery (DR)
A clear understanding of how a WSFC works through lessons presented in simple terms, using analogies that you can relate to - I hate complicated and confusing explanations
Detailed tutorials on how to do the most common administrative tasks
Exclusive information about WSFC behavior that you won't even find on any Microsoft documentation
Plus, I will share with you everything I've done to become a sought-after SQL Server consultant.
I mean let's face it, they just don't teach this stuff in the official Microsoft courses...
"You'll Never Get Access To This Material at a Lower-Cost Than What You See Today"
Seriously, you need to get in on this now, because the price I'm offering today is the lowest you will ever get access for.

The price will continue all the way until the cart closes on 29th October 2017. After that, you won't be able to register until further notice - and there will be no exceptions.

Look...

This is without doubt the most valuable and comprehensive training of it's kind available. There really is nothing else like this on the market (I challenge you to have a look if you don't believe me).

If it wasn't already a no-brainer, the amazing bonuses that I've included with the training are easily worth the asking price alone. (You'll find out what they are shortly)

And I know what you're thinking, but don't worry...

I'm not about to ask you to hand over an extortionate amount of money to get access to "WSFC for the Smart SQL Server DBA"...

Though I can't make this promise for the next launch, today's special price completely undervalues this material, and I can tell you now, it will be much less than you think.
"I'm Not Done Yet... Check Out These Exclusive Bonuses!"
Now to top it all off, I wanted to throw in some exclusive bonuses that'll help you take what you learn in this training and
Elite Facebook Group (valued at $597)
Access to an elite private Facebook group with other students and high-level SQL Server DBA's (and exclusive access to me)
SQL Server High Availability and Disaster Recovery course (valued at $315)
Free access to my SQL Server High Availability and Disaster Recovery Deep Dive course
Personal Lab Mini-Course (originally priced at $95)
Free access to my mini-course How To Build A Personal Lab for Deploying SQL Server on Windows Server Failover Clusters
I think we can agree when I say that these are all insanely valuable bonuses. And even though the total value of the bonuses alone are worth more than $1,000...
...I'm giving them to you 100% free when you register today.
"Undoubtedly The Most Efficient and Cost-Effective Solution On The Market"
It doesn't matter what way you slice it, there's just no faster, easier or more economical solution to learn what I teach in this course...

For example, If you hired me to personally teach you everything in the training program, you'd be looking at a pretty hefty price tag.

Of course, you could just pay $2,825 to enroll in a database administration program at a university, but that still wouldn't cover Windows Server Failover Clustering to the level of detail that you get in my course...

...not even close.

Maybe you prefer the idea of spending $4,435 to attend a drawn out 4-day course, factoring the cost of hotels and missed days at work?

I mean, those are all small numbers when you think about average cost of database downtime per minute, which is a dizzying $7,900 according to the latest survey from Ponemon Institute.
"Get Instant Access for This Amazing Low-Price Now..."
One more time, here's a breakdown of everything you're getting...
WSFC for the Smart SQL Server DBA - valued at $577
Bonus #1: Elite Facebook Group - valued at $597
Bonus #2: SQL Server High Availability and Disaster Recovery course - valued at $315
Bonus #3: Personal Lab Mini-Course - valued at $95
Total value for all components: $1,584

But, as promised, I won't be charging you anywhere near that amount. You'll get all this today at a very special discounted price.

Enroll now, and you'll get instant access to my premium training course: and all the exclusive bonuses for just $595 [limited time].

Get "WSFC for the Smart SQL Server DBA" now for just $595 [limited time].

"Risk Nothing With My Rock-Solid 30-Day Money Back Guarantee"
Yes, you read that right...

... You can enroll today and risk absolutely nothing!

If for some crazy reason WSFC for the Smart SQL Server DBA doesn't work for you - and I have every reason to believe it will - but if not, I've got you covered.

Just send me a quick email within 30 days, show me you went through the course materials and applied everything I taught you, and I'll give you back every cent.

No hard feelings.

Get "WSFC for the Smart SQL Server DBA" now for just $595
"Take Action And Enroll Now...The Clock is Ticking!"
Like I said, this product won't be at this price for long. There's a sand TIMER against it, and once the sand stops flowing, that's it. The price will increase. It's that simple.

The bonuses won't always be part of this deal either. At some point in the future you'll have to pay extra just to have access to them.

And If you don't get in before the cart closes (very soon), there's absolutely no way to get access until I open it up again next year.

No one else is selling this material. You can't find this stuff anywhere online. I'm the only one selling it and this is the only place you'll find it.

Just think of what level you could be at in just a few short months with this small investment.

"Frequently Asked Questions"
How long is the course?
This is a go-at-your-own-pace course. We recommend trying to complete the course
in a month for maximum learning experience.
Where and when do classes meet?
There are no live classes. It's all pre-recorded video content.
Can I buy the course modules individually instead of the entire package?
Yes, you can. However, you won't have access to the additional bonuses.
How long will I have access to the course?
You get unlimited support and access to the site for an entire year. At the end of a year you
can renew your subscription for continued support and access. Any updates to the course during the year - like Windows Server 2016 Failover Clustering features - are available at no extra cost.
"It's Now Time To Make Your Decision"
If you're ready to take your SQL Server DBA career to the next level, here's how you can join Windows Server Failover Clustering (WSFC) for the Smart SQL Server DBA:
Click the link below to get started.
Purchase the course.
Create your login name and password.
Join the private Facebook group and start making connections with other students
Start going through the video lessons.
Get "WSFC for the Smart SQL Server DBA" now for just $595 [limited time].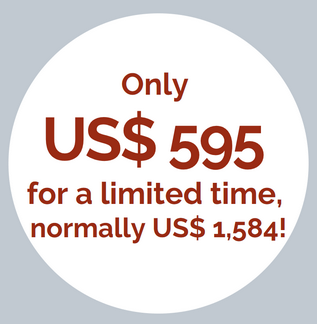 "Pricing"
$2,825
Cost of database administration program from a university; still does not cover Windows Server Failover Clustering in-depth.
$ 4,435
Cost of attending a 4-day course plus hotel and missed days at work.
$7,900
*Average cost of database downtime per minute according to the latest survey from Ponemon Institute.